Potaknuta današnjom raspravom o mladim nadama i njihovim perspektivama, napravila sam malo istraživanje i pokušala da odaberem neke od interesantnijih prospekata iz generacija 90-93. Možemo ovde da razmenimo mišljenje o njima, da unosimo nova imena ukoliko za njih saznamo, itd. Nadam se da će barem neki od njih da naprave značajniji pomak u pro cirkusu.
***1990. godiste:
Ricardas Berankis (Litvanija)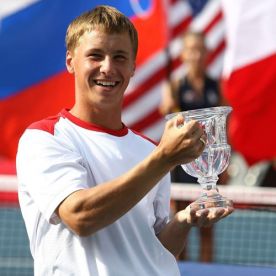 Godište:1990.
Rank:199
Najbolji rank:191
Bio: Father, Genadijus, and mother, Jelena...one sister, Lina, a former tennis player...Started playing tennis aged two...Hobbies include fishing, pool, and music...Former junior World No. 1 in 2007, when he captured US Open junior title...Coached by Remigijus Balzekas.
Guillaume Rufin (Francuska)
(slika uklonjena zbog softverski blokada i nezadovoljajuceg razvoja karijere (po forumsku populaciju)
)
Godište:1990.
Rank: 145
Najbolji rank: 139
Bio: Father Emmanuel, mother Anne and brother Xavier…Speaks French and English…Coached by Emmanuel Planque (since 2007) and physical trainer is J. M. Dubosq.
He received a wildcard into the 2009 French Open, his ATP-tier debut. In the first round, one day before his 19th birthday, he beat Eduardo Schwank, 6-1, 6-3, 6-3 in the first round and advanced to the second.
Rufin achieved another landmark in his young career on 25 October 2009 when he won the Florianapolis Challenger title in Brazil, beating Pere Riba in the final 6-4 3-6 6-3. He is now the top-ranked teenager in World men's tennis.
He reached the quarter-finals of the 2010 Open 13 in Marseille. In the first round he defeated lucky loser Laurent Recouderc 7-5, 4-6, 7-6(2). He followed this up be defeating Yannick Mertens of Belgium 6-3, 2-6, 6-2. He eventually fell to World No. 92 Mischa Zverev 7-5, 6-7(4), 6-3.
Jonathan Eysseric (Francuska)
(slika uklonjena zbog softverski blokada i nezadovoljajuceg razvoja karijere (po forumsku populaciju)
)
Godište:1990.
Rank: 489
Najbolji rank: 279
In 2007, he was the junior finalist at the 2007 Australian Open. At the 2007 French Open, he competed in the main and juniors draws. In men's doubles he competed with Jérémy Chardy, losing in tiebreak sets to seeded Martin Damm and Leander Paes. In mixed doubles, he competed with Alizé Cornet, where they reached the second round. Kellen Damico and Eysseric also competed in the boy's doubles final with Kellen Damico of the United States, and both seniors and juniors singles competitions, losing in four sets in singles and lost to Ričardas Berankis of Lithuania, despite being seeded second.[2] He won the 2007 U.S. Open boy's doubles title with Jérôme Inzerillo as the 6th-seeded team, beating first-seeded Vladimir Ignatic and Roman Jebavý in the semifinals and Grigor Dimitrov and Vasek Pospisil in the final.
He received a wildcard in the French Open 2008, but he lost to Britain's Andy Murray after having pushed him to 5 sets.
Federiko Del Bonis (Argentina)
(slika uklonjena zbog softverski blokada i nezadovoljajuceg razvoja karijere (po forumsku populaciju)
)
Godište:1990.
Rank:152
Najbolji rank: 152
***1991. godiste
Andrey Kuznetsov (Rusija)
Godište:1991.
Rank: 284
Najbolji rank: 278
Bio: Began playing at age four with father, Alexander, who is a tennis coach; mother is a physical trainer...Nicknamed Andreeek...Hobbies include playing soccer...Future ambition is to win a Grand Slam singles title...Idol is Roger Federer and players he most admired are Federer and Andre Agassi...Favorite surfaces are clay and grass and his favorite shot is between the legs...Says if he wasn't a tennis player he would like to be a doctor...Captured Wimbledon junior title in 2009...Coached by his father, Alexander (since 1997).
Kuznetsov won the Boy's Singles title at the 2009 Wimbledon Championships.
Grigor Dimitrov (Bugarska)
Godište:1991.
Rank: 334
Najbolji rank: 255
Bio: Began to play tennis at age five...Nicknamed G-Force, Dimi, PT (Prime Time)...Only child of father, Dimitar, who is a tennis coach, and mother, Maria, who is a sports teacher and former volleyball player... Speaks Bulgarian and English...Considers favorite shot backhand down the line and favorite surfaces are hard court and grass...Ambition is to be World No. 1...Idol is Roger Federer...Hobbies include cars, computers and watches...Compiled outstanding junior results, finishing as No. 3 junior in world in 2008...Captured Wimbledon and US Open junior titles and advanced to QF at Roland Garros in '08...In '07, reached Orange Bowl final in Miami (l. to Berankis)...Practices at Mouratoglou Tennis Academy in Paris and coached by Swede and former ATP pro Peter Lundgren (since February 6, 2009).
***1992. godiste
Gianni Mina (Francuska)
Godište:1992.
Rank: 682
Najbolji rank: 681
Bio: On the junior circuit, Mina reached a career-high combined ranking of No. 2 on December 14, 2009, after finishing runner-up to eventual 2009 International Tennis Federation (ITF) World Junior Champion Daniel Berta in the French Open final, winning international junior tournaments in Beaulieu-sur-Mer and Istres, and the Boys' 18s singles at the year-end Dunlop Orange Bowl in Key Biscayne, becoming the second Frenchman to win the title in the event's history, after Guy Forget in 1982.[1] He reached his highest ATP singles ranking, No. 1108, on February 8, 2010, and has not yet been listed in the ATP doubles rankings. Mina is coached by former French players Aloïs Beust and Olivier Ramos.
Filip Krajinovic (Srbija)
Godište:1992.
Rank: 328
Najbolji rank: 267
Bio: Started playing tennis at age 5... Moved to Bradenton, FL to the IMG/Nick Bollettieri Tennis Academy at age 13... Works there under the guidance of Nick Bollettieri, Chip Brooks and David "Red" Ayme... Has been using the resources at the Academy, such as the nutritionist, mental conditioning staff... Has been training with Mario Ancic and his brother Ivo on various occasions in 2009-10. Plays with a double-handed backhand.
As a former World No. 6 junior player, he reached semifinals of Wimbledon Championships and US Open in 2008. In 2009, Krajinović reached finals of three ATP Challenger Series events, and made his ATP World Tour debut at the Serbian Open, losing to Marcel Granollers in the first round 6–0, 2–6, 6–2.
Bernard Tomic (Australija)
Godište:1992.
Rank: 296
Najbolji rank: 209
Bio: In 2004 and 2006, respectively, Tomic won the 12s and 14s Orange Bowl titles – one of the most prestigious events on the junior tour .
He began 2008 by winning Nottinghill, an Australian ITF Junior event in Melbourne without dropping a set. Two days later he started his campaign for the Australian Open Juniors title as the 5th seed. Tomic went on to win defeating the 25th, 11th, 8th and 1st seed before beating 10th seed Tsung-Hua Yang of Chinese Taipei 4-6, 7-6(5), 6-0 in the final.[6] His win made him the youngest winner of the Australian Open Junior Boys' Championships in the Open Era.
Ryan Harrison (USA)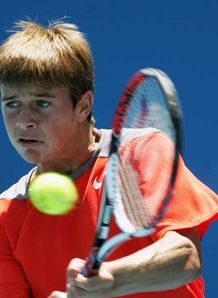 Godište:1992.
Rank: 253
Najbolji rank: 248
Bio: Harrison began playing tennis aged 2, and is coached by his father, Pat Harrison, who had a brief career as a professional, playing predominantly Challenger and Futures events.
Harrison is notable for being the third youngest player since 1990, after Richard Gasquet and Rafael Nadal, to have won an ATP level match, defeating world #130 Pablo Cuevas in the 2008 U.S. Men's Clay Court Championships. Entering the tournament as a qualifier ranked #1000, he was only the tenth player in the history of the ATP Tour to have won a match before turning 16.[1] Although the match was played on a clay court, Harrison considers his best surface to be grass.
Yuki Bhambri (Indija)
Godište: 1992.
Rank: 321
Najbolji rank: 321
Bio: Yuki has a current junior ranking of 1 in the world as of February 2, 2009 and has consistently been in the top 20 since the beginning of 2008. He won the Junior Australian Open Boys singles title in 2009 by beating Alexandros-Ferdinandos Georgoudas of Germany 6-3,6-1 in the finals.
***1993 godiste
Generacija 1993.
Tiago Fernandes (Brazil)
Godište:1993.
Rank: 583
Najbolji rank: 555
Bio: Počeo da igra tennis sa 7 godina, bio je juniorski broj 1, osvajač juniorskog AO. Radi sa bivšim trenerom Guge Kuertena. Omiljena podloga mu je šljaka.
Jiri Veseli (Češka)
Godište:1993
Rank: 864
Najbolji rank:862
Bio: Počeo da igra tenis sa 4 godine, juniorski je broj jedan u ovom trenutku, ove godine (2011.) osvojio juniorski AO. Zanimljivost je da je levoruk igrač i da ga trenira čak trojica ljudi na čelu sa ocem.
Karlos Boluda Purkis (Španija)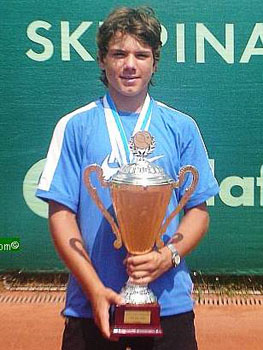 Godište:1993.
Rank:625
Najbolji rank: 625
Bio: počeo da igra tennis sa 4 godine, omiljeni igrači su mu Agasi i Nadal, omiljena podloga beton. Bio je 31. junior sveta.
Robert Rumler (Češka)
Godište: 1993
Rank: 692
Najbolji rank: 692
Bio: Ne naročito uspešan junior (52. mesto) , ali to što je relativno mlad (rođen na kraju '93.) i sa malim brojem juniorskih mečeva (očito akcenat nije bio na tome), a uz priličan skok na listi u poslednjem periodu, predstavlja (moguće)povoljne indikatore.
Roberto Carballes Baena (Španija)
Godište:1993.
Rank: 657
Najbolji rank: 645
Bio: bio je 8. junior sveta, drži već dve titule na atp turnirima nižeg ranga.
Izvori: atp zvanični sajt, wikipedia, mtf, itd...
Edited by nlavrnja, 18 February 2011 - 13:46.
dodatak