Yamaha unveils its 2014 MotoGP bike, the YZR-M1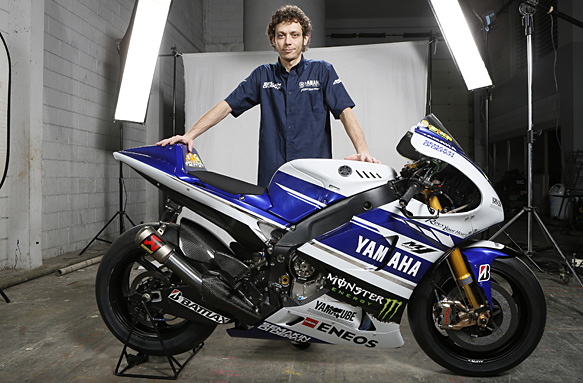 Yamaha has officially unveiled its 2014 YZR-M1 MotoGP bike and its revised colour scheme.

The team chose to hold its launch in a Yamaha dealership in Jakarta, Indonesia, on Friday evening.

Lead rider Jorge Lorenzo lost the 2013 title to Marc Marquez by four points in a year disrupted by two mid-season collarbone injuries.

He is confident that the latest bike will allow him to produce an even stronger championship bid now he is fully fit.

"My expectations for this season are very high," said Lorenzo.

"This winter I had an operation to take out the metal plates in my shoulder so I'm a bit lighter but I'm also a bit fatter after Christmas...

"I am training hard to lose some kilos and I will try to start the season well like last year and be straight onto the podium.

"This will be important to get points and gain confidence to keep going through the season.

"Our rivals will be tough but I think if we've improved in some areas then we have a good chance to win the title again."

Valentino Rossi stays on as Lorenzo's team-mate but has admitted that he will consider his longer-term future if he does not show better form in the first third of the season, having won only once in 2013.

"The expectations for the coming season are very high," he said.

"My target is to try and do better than last year, be more competitive and fight for the podium every weekend.

"I am sure our bike will be very competitive again."
http://www.autosport...t.php/id/112175
Jorge demantovao vest o prelasku u Ducati
Edited by alpiner, 28 January 2014 - 16:41.